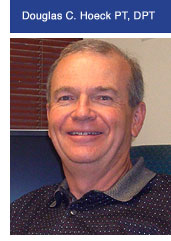 Welcome to our website.
Hoeck Physical Therapy has a simple philosophy:
To thoroughly evaluate each patient and devise an appropriate, individualized treatment plan, then acting on that plan with a hands-on progressive approach to rehabilitation.
We're here for you
Hoeck PT is committed to providing highly personalized care. We pride ourselves on consistent staff coverage and are always on time (within approximately 5 minutes). We ask that you please provide us the same courtesy and arrive on time for your appointment, ready to exercise.
Thank you for taking the time to browse our website, we hope you will find the information helpful. There is no substitute for direct communication so I welcome you to call and talk to one of our staff at any time.
Hablamos Español